The Covid19 virus has caused disruptions in the Fleet Management arena as never seen before.
Disruptions of deliveries, orders being cancelled, non-payment of accounts and many other influences are forcing Company Executives and Fleet Managers to re-evaluate all factors that influences fleet operating expenses.
Looking at the Fleet Life Cycle of a vehicle in a fleet, places focus on what areas should be considered to reduce costs, mitigate risk and improve safety.
Fleet policies governing all the components of the Fleet Life Cycle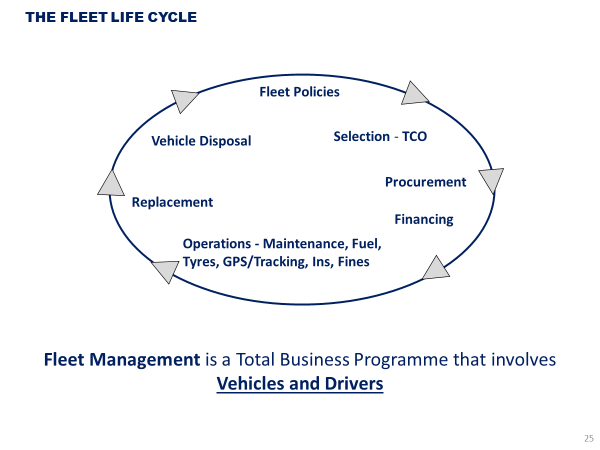 Fleet Policies governing all the Fleet Life Cycle points should be in place. These policies should be agreed to by management and the fleet department and circulated to all company vehicle drivers. That being for Company cars or Allowance users.
Selection criteria for acquiring a vehicle should be based on usage requirement, correct vehicle for job application and actual lifelong cost to the company. The only way to determine this is by applying the Total Cost of Ownership (TCO) evaluation process.
Procurement principles in selecting a specific vehicle from a selected Manufacturer brand, Dealership Group and Dealership should be agreed to.
All pricing influencers such as discount, on-road costs, workshop labour and spare parts rates, downtime assistance and delivery costs should be agreed to. This can be done by having a Service Level Agreement (SLA) in place.
Financing of vehicles could be done via various financial options. The best financing option should be investigated by comparing Lifetime Costs and Discounted Cash Flow (DCF) options. All factors from Procurement to Disposal must be taken into consideration. Improving cash flow and mitigating risk should be noted objectives.
Operations –
Maintenance, Tyre and Fuel expenses can be managed by engaging various types of service providers. There are Fuel, Maintenance and EToll cards available from all major banking institutes. Vehicles could be managed via a Managed Maintenance or Maintenance Management products provided by financial institutions or specialist Fleet Management companies.
GPS/Tracing service providers can supply information that enables the company to change and improved driver behaviour. The result is less accidents, fines and HR cases resulting in improving the Safety and Risk of the company.
Accidents can be managed by the companies Insurer or the services of an Accident Management service provider can be solicited. Both should be able to
supply the company with comprehensive reports. The reports should be able to create actions that will influence driver behaviour and highlight areas of improvement.
Fines Management in terms of the new suggested AARTO regulations will become a very important factor in risk mitigation. Company drivers fines as well as their private fines will have an influence on Insurance, HR interventions and driver training.
Replacement policies governs timeous replacement of older fleet vehicles. Ageing fleets leads to increased down time, decline in driver morale, lower resale values and incremental step-up in replacement costs.
Vehicle Disposal of terminated vehicles should be planned to coincide with delivery of replacement vehicles. The possible resale value and benchmark price reserves should be determined prior to method of sale. Sale of vehicles can be direct to staff members, on auction managed by experts in the field or as trade-in with the new vehicle supplier. This could follow the agreed principles in the SLA.
FleetBASE has access to a fully integrated Fleet Management Information System (FMIS) that can assist companies to reduce fleet operating costs and achieve valuable savings during and after Covid19.
By centralising all cost influencers on one platform, from procurement to disposal, the actual Total Cost of Ownership and Cost per Kilometre can be determined per vehicle in the fleet.
This enables accurate budgeting, future financial forecast requirements, what areas to improve on and developing a fleet department that adds value by improving the Return on Investment.